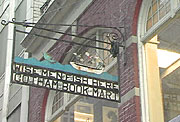 That sign, painted by John Held Jr., the famed illustrator of

Life

magazine covers and

New Yorker

cartoons, hung outside the Gotham Book Mart - a store opened by Frances Steloff in 1920 after having sold books from her window under another sign: "Interesting Books Selected Myself."
Over the next nearly nine decades, that sign was to become as much a New York landmark as Gotham Book Mart, a beacon to book lovers everywhere. Over it's lifetime, the store counted amongst its customers, W. H Auden, James Joyce, Norman Mailer, Anaïs Nin, J. D. Salinger, and William Saroyan. Allan Ginsberg and LeRoi Jones worked there and Tennessee Williams apparently didn't even last a day because he couldn't wrap packages!


Frances Steloff, who lived to be a 101, was a stalwart defender of writers' freedoms, selling the 'obscene' works of D. H. Lawrence and Henry Miller when they were banned in the US. She was one of the founders of the James Joyce Society and the Finnegan's Wake Society, which had it'
s home in the Gotham Book Mart.
T
he store, famous for its vast collection, was a bibliophile's dream come true. Used and new books all jostled for space and the Gotham Book Mart's collection of rare and out of print books, literary journals, pamphlets and monographs and first editions and signed copies was legendary. For all its intimidating
presence of wall to wall books, Gotham Book Mart was a friendly and inviting place to be. The Associated Press described it as an "American monument", "as close to heaven as a book lover will get" and "a sort of Carnegie Hall of modern literature."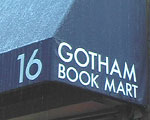 I started going to the Gotham Book Mart in the summer of 2004, the year that I moved to the City and the year that the store moved into what would be its final home on 46th Street. It was on my way to office and I got into the habit of peeking in for a quick browse on my way to or from work. I always felt welcome there even though I bought something maybe one time out of ten. Unfortunately, after I moved to my present job in Downtown, those visits became far and few in between.
Last week, Gotham Book Mart downed its shutters for the last time. The store was nearly half-a-million dollars in arrears on it's rent and its entire inventory was auctioned off by court order. The tickets to the auction were $1,000 apiece and in a "Only in New York baby, only in New York" moment, the New York Times (subscription required) reported that the line stretched around the block (and it's an avenue block!). In the end, the landlord's bid of $400,000 for entire inventory was the highest, although John Held's painted sign was apparently not part of the auction lot.
Thus ends the story of Gotham Book Mart, "not with a bang but with a whimper." The following lines are from one of the cheesiest movies ever but since

You've Got Mail

was at least peripherally about a book store and about New York, here goes:
"People are always telling you that change is a good thing. But all they're really saying is that something you did not want to happen, at all, has happened...
My [book] store is closing this week... And in a week it will be something really depressing... Soon it'll be just a memory. In fact, someone... will probably think that it's a tribute to the City, the way it keeps changing on you, or the way you can never count on it, or something.
But the truth is, I am heartbroken."

Gotham Book Mart, R. I. P.